Hi, I'm Robert Fleming, Head Instructor of Two Tigers Kung Fu Academy and I want to share a little about my family. In 1994 I graduated from a nursing program at 21, I got and my first apartment, furniture, and Kung Fu lessons at what was then Wing Lam Kung Fu, taught by Sifu, John Ervin.
I started with Northern Shaolin and then was introduced to Shuaijiao. I had wrestled before so I took to it immediately and before I knew it within a year I had won my first Nationals. I went on through the years competing in tournaments in Shaolin forms, San Shou (kickboxing), San Da (full contact fighting), Shuaijiao and even an MMA-style shootfighting match! I was very successful earning many trophies and medals and ranked 4th in the 1st World Cup held in Beijing in 1997.
Those successes did wonders for a young man who endured bullying as a youth and my share of trouble based on my reactions. More importantly Sifu taught and helped to develop in me skills like perseverance, having a plan, adapting to the situation, patience, and the self-discipline to put in the hard work (translation for "Kung Fu"). If I'm honest, those things are so important to develop personally and in martial arts, but the real FUN was traveling with my Sifu and training brothers and sisters, all over the country and internationally competing in Shuaijiao! I met so many different people, competitors from Spain to Mongolia and many other countries and nationalities and experienced so much culture. For a young man in his 20's being exposed to a wider world view was invaluable. I am so proud that I was able to share that experience with the family my wife and I created.
My children started their training at 2 years old just at home and then began formal training with my Sifu at Shaolin Kung Fu Institute. My daughter Mariah is the highest-ranking student in my school and is not only a multi-time national Shuaijiao champion but is the 2017 World Cup Champion at only 17 years old. My son Stephen had his first competition at 3 years old and has been very successful from that day forward, He has multiple championships including the Nationals 185 lb. adult Division at the age of 16.
So, here's my coolest memories:
My daughter Mariah at the World Cup Adult division lifting a very tall woman over her head for the win! To see the determination on that little girl's face, I knew then she was going to be ok in this crazy world.
My son Stephen at 13 years old competing at the Year of the Rooster Tournament at OSU in the 143 lb. Adult division makes it to the finals for 1st and 2nd place and must face his DAD! No, I didn't let him win lol I needed to still be able to make him do chores.
Stephen wins 2nd place at the Brazilian Pan Am cup at 17 "with a broken freakin ankle" (Kurt Angle, WWE reference lol)
My wife Heather training for her first Shuaijiao tournament in Canada. She was so nervous and insecure, I just remember those blue eyes looking at me during training, as if to say, "I trust you, don't let anything happen to me." Not a chance My Lady! To see her overcome fear and nervousness...an everyday mom in a Chinese-style wrestling tournament in a auditorium in another country in front of people. She won that match! I'm so proud and impressed with her inner strength.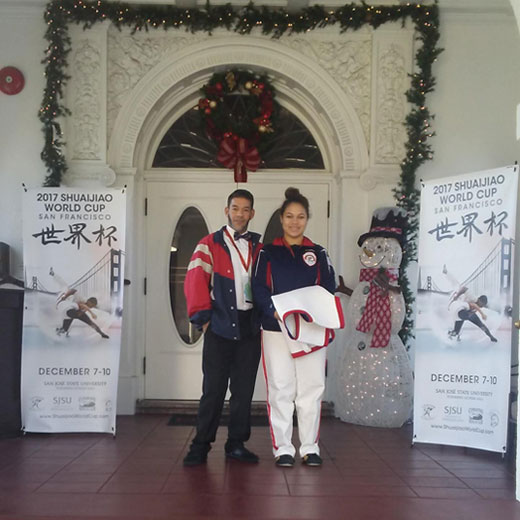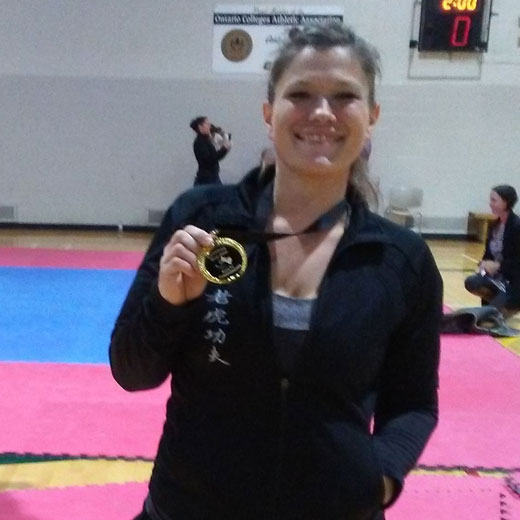 Thank you for allowing me to open this window into my family. Thank you Sifu, for giving me and my family such an invaluable gift and teaching me the knowledge and martial skills needed to impart what I have learned, respect, discipline, perseverance, self-control and honesty to All of my students.
As for my children, they are adults now, graduated and on to college and their lives. Bullying? Check. Self-esteem? Check. Confidence? Check. Good decision making? Check. Work ethic? Check. Ability to protect and stand up for themselves, regardless of if it's their civil right or protecting their personal safety? check, check and check!