Ba'al Stewart
Humility is a blackbelt principle. Ba'al Stewart is a junior blackbelt and a blackbelt buddy. He's always willing to help younger students, as well as help in his community.
Iris
This is Iris. She is five years old. She is our example this week of DISCIPLINE. It takes a lot of focus to remember these steps! She will be more than able to handle that first day of school coming soon!
---
Steven Barber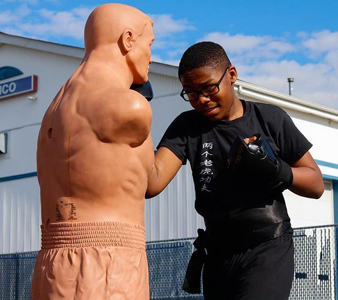 Steven Barber is a junior Blackbelt, a member of our Blackbelt Club, and one of our senior students. He provides a great example to his training brothers about setting martial arts goals and achieving them. Steven doesn't stop there - he carries the principles of Blackbelt into the classroom, into extracurricular activities, and into his community as well.
Here are some of Steven's achievements:
2014-15
Principal's List, Glendale Primary
2016
Certificate of Appreciation Award
Leading the Board of Education in the Pledge of Allegiance
Honor Roll
2017
Honor Roll, Carlywood Intermediate School
Recipient of the Paul G. Ward Memorial Award
(This award is given to young people who demonstrate the following characteristics every day: Honesty, integrity, dignity, humility, kindness, and helpfulness to others.)
Steven was invited to be part of the flag ceremony at the Cleveland Cavaliers game in February 2020!
Keep pushing past your limits! You can achieve all your dreams!
---
Ruby Pelley
Ruby Pelley joined our Kung Fu family in 2013 at the age of 13. Within her first few months of training she competed at the Wutang International Tournament. She won first place in forms with Lian Quan. Since then she has won first place in forms and weapons at the Great Lakes Kung Fu Championships every year she has competed. In fact, Ruby once won at Advanced Forms while still being at the Intermediate level!
Ruby is the 2018 National Shuaijiao Champion in the 125 lb. weight division, which is notorious for its tough competition. Our Shuaijiao president Jan Yu Weng once referenced one of Ruby's matches as "the purest Shuaijiao matches he's ever seen."
Ruby has used that work ethic, focus, and discipline in her studies at Messiah College. She is currently a junior majoring in Chinese Studies and in the summer of 2019 she spent over two weeks in China completing a cross-cultural study.
Did we also mention she was a stunt woman in a movie?! You're awesome Ruby!